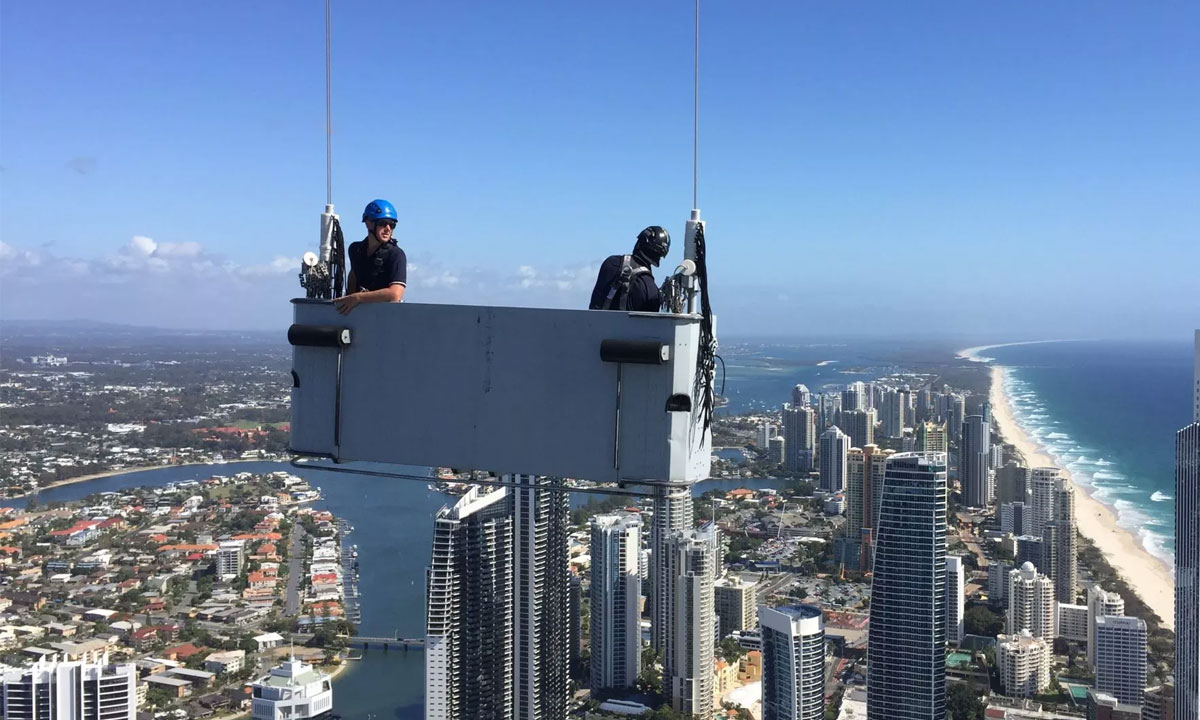 10 Nov

Safety first…and every step of the way – November 2019
Safety first…and every step of the way
Good afternoon clients,
When manoeuvring glass panels weighing up to 460kg on buildings up to 322m tall, we cannot and will not take any chances when it comes to risk management and safety. Every single Glaziers.com project is planned and executed with safety as our number one priority.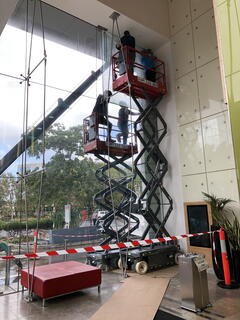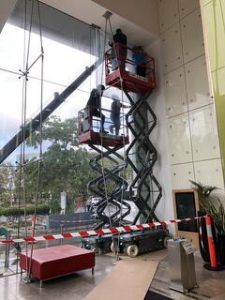 'Safety' refers to mitigating risk of injury or damage to our personnel, yourselves as our valued clients, the public and the property you entrust us with. We do this, by not only using competent and qualified staff but also carefully considering the most appropriate and safest methodology to be used, which gets transcribed in a 'safe work method statement'; more commonly referred to as SWMS. The teams conduct a toolbox talk at the beginning of every shift, to ensure any additional factors that may affect works is acknowledged, discussed in detailed and controlled by whichever means are necessary. Some clients request a site-specific safety management plan, which we are happy to provide, to give further details on how we will ensure no unnecessary risks are taken.
100% of our onsite staff hold a valid Work Safely at Heights Certificate and 50% of our office-based staff do too! While the office staff aren't necessarily getting up on roofs or near live edges like our onsite crew, we recognise the importance of as many people as possible being aware of the risk and hierarchy of control to be considered when working at height; running from elimination to substitution before isolation, engineering and administration to manage or control the risk.
While the 'Work Safely at Heights' Unit of Competency (RIIWHS204D) does not have an expiry date, the Working at Heights Association (WAHA) and other industry bodies recommend that this training is refreshed every 2 years. We like to be above industry standard in all possible ways, so we prefer to refresh our onsite personnel training annually to ensure we are always up to date with any changes.
Lifting large panels whether they are glass or aluminium to install at height requires careful planning, specialised equipment and skilled personnel. We have a team of experts in this area who ensure our methodologies are approved and appropriate for the specific site and can advise whether the use of your building maintenance unit (BMU), an elevated work platform (EWP) or our specialised rigging systems using cutting edge technologies and winches are best for the job. Sometimes it is a combination to ensure maximum risk control! We regularly service all of our equipment including our sucker units, winches and lifting equipment; all of which are also routinely inspected for each and every use to ensure we maintain a 'zero drop' company.
Here at Glaziers.com, we have 20 first aiders! That includes all CPR certificates being refreshed every 12 months! This means it's not uncommon to have a whole team onsite with every person being appropriately trained to deal with first aid situations if they should occur. We always have at least one first aider onsite, prepared with a first aid kit that is regularly audited to ensure it is suitably stocked.
IS YOUR BUILDING SAFE? As explained in our last newsletter, there is an unfolding nationwide crisis in the identification and replacement of composite panelling or 'cladding' as it is more commonly referred to. Many residential and commercial high rises are being found with defects due to dangerous combustible cladding. Now is the time to act and we can assist! We are currently undertaking projects throughout Australia to assist various companies with cladding replacement.  We can also undertake sample testing, panel inspections to have engineers clarify remedial work requirements for replacement, assisting with preparing tender packages and/or scope of works.
If you would like to discuss your current or upcoming works, knowing we are safety-focussed, industry leaders in cladding, glazing or facade maintenance, please do not hesitate to contact our Head Office or the dedicated representative for your state.
NSW – Michael Dobbs 0420 335 531 michael@glaziers.com
VIC – Patrick Naughton 0402 212 063 patrick@glaziers.com
WA – Craig McIndoe 0490 039 809 craig@glaziers.com
QLD – Craig McIndoe 0490 039 809 craig@glaziers.com or Patrick Naughton 0402 212 063 patrick@glaziers.com
Head Office – 07 32 11 44 11 admin@glaziers.com